St. François d'Assise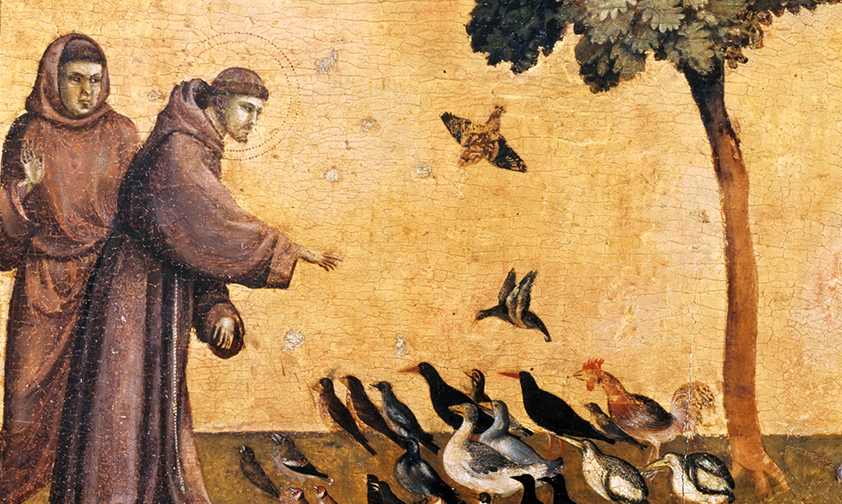 In the upcoming Season 2018/19 Katharina Persicke will be singing the Angel in the Opera "St. François d'Assise" by Olivier Messiaen. A link to purchase the tickets can be found under "Schedule".
Katharina Persicke studied in Dresden and Freiburg/Breisgau where she graduated with honors with a Master's Degree in vocal performance. She has participated in master classes with KS Professor Peter Schreier, Dietrich Fischer-Dieskau, Julia Varady, Anne Lebozec and Catherin Malfitano.
Since 2005 she has studied with Stefan Haselhoff (Basel).
On the competition stage, she has won prizes in both the "Schubert und die Musik der Moderne" Competition in Graz and the "Queen Sonja" Competition in Oslo.
Included among her most notable operatic performances are Giselher in Die lustigen Nibelungen with the Semperoper Dresden, Gianetta in L'elisir d'amore with both the Stadttheater Freiburg and the Oldenburgisches Staatstheater, Contessa in Le nozze di Figaro with both the Luzerner Theater and the Stadttheater Augsburg and Marguerite in Faust with Bühne Baden bei Wien. Additionally, Ms. Persicke has enjoyed great success at the Feldkich Festival 2006 as Zerlina in Don Giovanni, the European Opera Centre 2011 as Quiteria in Die Hochzeit des Camacho by Mendelssohn, and the Herrenchiemsee Festspiele 2010 and 2011 as Pamina in Die Zauberflöte.
On the concert stage, Ms. Persicke has worked with the Amaryllis Quartet, pianists Nicholas Rimmer and Pauliina Tukiainen, the Royal Liverpool Philharmonic Orchestra, the NDR Radiophilharmonie Hannover, the SWR Sinfonieorchester Baden Baden und Freiburg, and members of the Munich Philharmonic Orchestra among others.
She has worked with many prominent conductors such as Thomas Hengelbrock, Sylvain Cambreling, Vasily Petrenko, Howard Arman, Enoch zu Guttenberg, Kay Johannsen and Hans Michael Beuerle. Her collaboration with prominent stage directors include projects with Gerd Heinz, Robert Herzl und Jan Phillip Gloger.
Ms. Persicke is passionate about art song, and this passion found its greatest expression in 2011 when, with pianist Nicholas Rimmer and Baritone Georg Gädker, she founded the series "Klangwerk: Lied" under the patronage of Irwin Gage.
In 2012 Katharina Persicke made her debut with the Israel Philharmonic Orchestra, performed again at the Herrenchiemsee under the direction of Enoch zu Guttenberg and toured with the SWR Sinfonieorchester.
Paul Ben-Haim (1897-1984)
Joram (Oratorium)
Katharina Persicke, Sopran
Miklós Sebestyén, Bass
Carsten Süss, Tenor
Bernd Valentin, Bariton
Heiko Siemens, Dirigent
Israel Philharmonic Orchestra
Münchner Motettenchor
Alban Berg (1885-1935)
Sieben frühe Lieder
Claude Debussy (1862-1918)
Les Proses lyriques (4 Lieder)
Richard Wagner (geb. 1813)
Wesendonck-Lieder
Katharina Persicke, Sopran
Pauliina Tukiainen, Klavier
Kaija Saariaho (geb. 1952)
Leino-Laulut, Lieder für Sopran und Klavier

Jean Sibelius (1865-1957)
Lieder
Katharina Persicke, Sopran
Henryk Böhm, Bariton

Pauliina Tukiainen, Klavier
Stephanie Winker, Flöte
Frank-Michael Guthmann, Violoncello
15. Nov 2018, 15:00
, Staatstheater Darmstadt,Grosses Haus,
J. Strauss "Die Fledermaus" (Rosalinde)
Noch nicht verfügbar
22. Nov 2018, 19:30
, Staatstheater Darmstadt, Grosses Haus,
J. Strauss "Die Fledermaus" (Rosalinde)
Noch nicht verfügbar
"Ruhe, meine Seele"
Lieder von Richard Strauss
Katharina Persicke, Sopran
Nicholas Rimmer, Klavier
Richard Strauss "Vier letzte Lieder"
Katharina Persicke, Sopran
ALL YOU NEED personal management nicolai
Jolanta Nicolai
AYNpmn@icloud.com
Office: +49-721-17.45.41.86
Mobil JN: +49-175-42.61.233
Gerne in Zusammenarbeit mit: 
Elisabeth Ehlers / Verena Vetter
KünstlerSekretariat am Gasteig
Elisabeth Ehlers - Lothar Schacke - Verena Vetter oHG
Montgelasstraße 2
81679 München
T +49 89 4448879 0
F +49 89 4489522
E-Mail: team@ks-gasteig.de